About Our Rose Nurseries
The Garden Roses website (www.garden-roses.co.uk) is operated by Pococks Roses of Romsey, Hampshire and The Cornish Rose Company of Newquay, Cornwall.
About Pococks Roses
Situated in the heart of Hampshire's beautiful Test Valley, you will be able to enjoy many gardening delights in this area should you decide to visit.
Pococks Roses is a small nursery dedicated to growing nothing else but roses for the garden. These roses are sold direct from the nursery, or from flower shows or by mail order. (see How to Buy menu). We produce from our fields in excess of 60,000 plants every year in a range of over 450 varieties.
We have roses to suit most garden situations and soils and we can usually find a rose that will come close to your particular requirements. Many roses have wonderful names to make them suitable as gifts for any number of special occasions, for example Warm Wishes, Silver Anniversary, Birthday Girl and Scented Memory.
Our staff are very knowledgeable and usually very helpful! So don't be afraid to ask their advice. November is probably our most hectic month of the year as we are extremely busy sending out orders and digging up roses – and working against limited daylight is simply frustrating!
At the nursery, which is a working nursery, you will find us disguised under mud in the winter! Do come and join us as many others do, as we sell lots of roses from the nursery over winter – it is the traditional time to plant shrubs. By the spring it will have been transformed and be full with about 12-15,000 containerised roses ready for sale.
Joking apart, the winter season is when the crop of roses in the field is dug up and cleared (see How to Buy menu) – this clearance is achieved by sending out orders for field grown (bare root) roses that we have taken through the summer from shows, from the nursery, catalogue or web site and collections by visitors to the nursery. The remainder of that crop is then potted (a fairly lengthy task!) from November into the New Year. We aim to pot a small number of every variety to begin with and these are then displayed on our benches for customers to buy immediately. Then we pot the remaining stock to fill the nursery for sales from spring onwards. Obviously, roses without leaves are not very colourful but by spring they will start growing away and the whole cycle begins again! That is why the nursery can look very empty during the winter period!
We are in the process of re-designing our display area at the nursery with which we aim to show a good range of the varieties we grow, with particular emphasis on climbers and ramblers, to give customers as much help as possible in choosing appropriate varieties. It also shows how to train climbers and ramblers on various structures.
From May through to August we are usually exhibiting weekly at flower shows. Many are RHS shows, others are independently run smaller shows and we attend several agricultural shows, normally in the south.
Look forward to seeing you soon.
Opening Times: Monday to Saturday: 9am-5pm. We are closed on Sundays.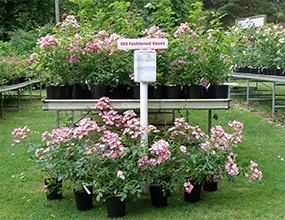 For privacy reasons YouTube needs your permission to be loaded. For more details, please see our
Privacy Policy
.
I Accept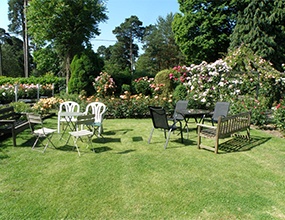 About the Cornish Rose Company
The Cornish Rose Company was established in 2006 as a result of Pococks Roses sending more roses to Cornwall than any other county. There is/was a common misconception that roses can't be grown successfully in Cornwall because the air is too clean. This may have been true prior to the Clean Air Act of 1956, but as sulphur pollution is removed at source this is no longer the case.
Therefore, we concentrate on growing the healthiest varieties that will tolerate the damp conditions of Cornwall. Bearing in mind that the sea is only 6 miles from our nursery, the roses have to cope with salt-laden winds and are therefore real toughies!
Opening Times: Monday to Saturday: 10am-4pm. We are closed on Sundays.
Our roses are also available from the following nurseries/plant centres:
Trebah Garden (Falmouth).
Falmouth Garden Centre (Falmouth).