To help you buy your roses and to try and clarify the way roses are sold, we have put together some information.
Roses are grown as crops in the field and every year one crop becomes ready for sale in November.
During the winter months roses are mostly sold in the traditional 'bare rooted' or 'field grown' way. This is a very good way of buying and planting roses when they are dormant, allowing them to grow away strongly in the spring having settled in over winter. Bare root roses are dug straight out the field and have no soil round their roots and no pots so are cheaper to buy. The plants will always be packed in a way that keeps their roots moist which is very important and they should be planted within a week of receiving them for best results.
We will pot a large proportion of our crop too which then allows us to sell roses when they are actively growing – digging rose plants out the ground at any other time than during their winter dormancy will be certain death for them!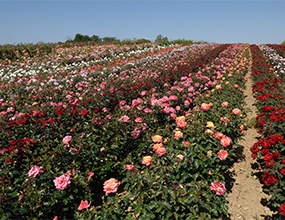 March to October
If you wish to buy our roses, there are two options:
Potted Roses. You can buy them as potted plants ready to plant immediately. However, during the winter months, any potted roses you buy will just be three or four stems without substantial leaves or shoots and won't have had time to form a strong root system. They will be pruned and ready for growing, either in containers or in the flower bed, and will grow away strongly within weeks.

Buying a potted rose is useful if you don't have the opportunity to plant it out into its final planting position or you want to give it as a gift.

Bare Root Roses. You can forward order plants from our next season crop which will be dispatched to you (or can be collected) during the winter season as dormant plants, having been dug fresh and supplied to you as 'field grown' or 'bare root' roses to plant immediately.
With option 1, if you are buying your roses during the spring/summer months, you are able to plant roses in full leaf and/or flower for instant effect. But, bear in mind that potted roses during the winter months  generally have no flowers or leaves. However, your choice of varieties that are in stock becomes limited as the months go by until the next crop is ready again in November.
With option 2, you have the advantage of ordering from a future crop and therefore are generally guaranteed your choice of variety. This option is the traditional method of planting roses and is cheaper as you are not buying pots and compost for each rose. Perhaps more importantly, the plants have a chance to grow new roots over the winter, thereby requiring less watering to aid establishment in the spring and often leading to earlier growth and flowering.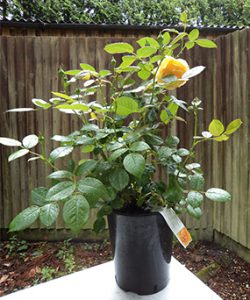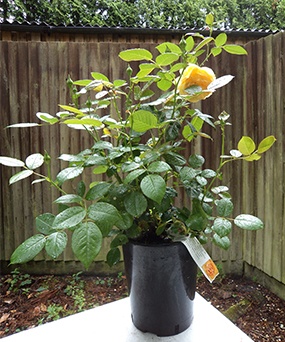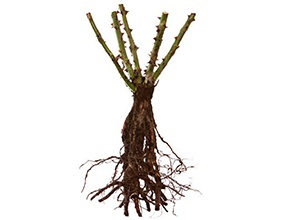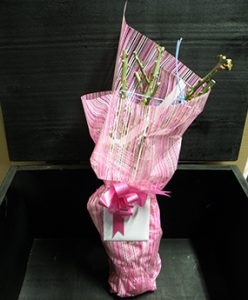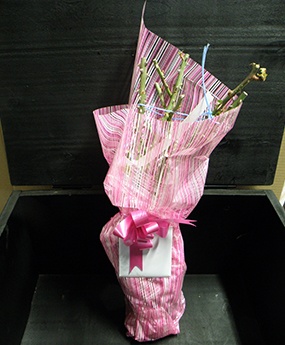 Bare Root Rose Giftwrapped
November to February
If you are buying roses between November and February, field grown or bare root roses are available and there will be a small number of freshly potted ones too for people who might not be able to plant the bare root ones quickly enough  or who want to give it as a gift. However, bear in mind that there is an 'end' to the field grown season and that choice of these becomes limited as roses are potted to keep sales going all year round.
If you buy a potted rose at this time of year, it will not have leaves or buds and won't have been in its pot for long enough to develop its roots, so taking it out of the pot to plant it in the garden could mean most of the compost will fall away. This is not a problem, plant it in the ground, together with the surplus compost, and in a few weeks it will grow away strongly. However, you can always leave it in the pot for a couple of months and the roots will begin to fill the pots.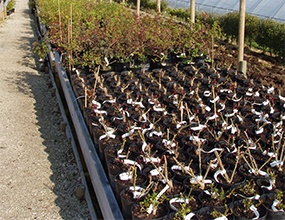 Now you know all about the rose growing seasons and the difference between bare root and potted roses, why not take a look at our beautiful range of garden roses.